About
The Tully Support Centre (TSC) was established by a group of concerned community members in 1989; as a community response to a lack of available support services in our community.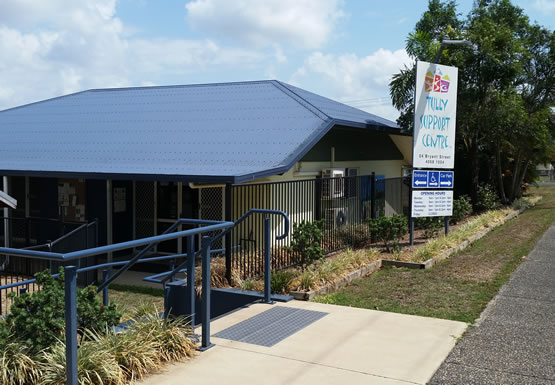 The TSC became incorporated in February 1991 under the name of the Cardwell Shire Community Support Centre.
The TSC co-located with the Cardwell Shire Council delivering information and advocacy services until the construction of the Tully Support Centre building, which was officially opened on the 27th of July 1994, the International year of the Family.
The TSC is a recognised provider of high quality, accessible and inclusive support services, that acknowledges the uniqueness of our region and of the discrete communities that make up that region.
The TSC undertakes a social justice model of service delivery upholding the principles of collaboration, empowerment, equity, accessibility, valuing diversity and human rights. The TSC asserts that respectful, positive, targeted and individualised engagement is the foundation of good practice that promotes the safety, wellbeing and improved outcomes for individuals and families within the Cassowary Coast region.
The TSC also undertakes and supports a number of community development activities within the community. All community development activities undertaken by the TSC follow an asset-based community development model recognising that:
communities themselves are best placed to identify and target responses for community issues;
sustainability is achieved through community investment and community ownership of a project;
communities possess assets and these assets can be targeted, developed and utilised in more efficient and effective ways.
The TSC is an incorporated, non-sectarian, non-political, non-discriminatory community-based organisation, overseen by a voluntary Management Committee, elected from the community. The TSC provides support services to communities throughout the Cassowary Coast Region.
Staff and Committee
Centre Manager
Shane Greenwood – shanegreenwood@tullysupportcentre.com.au
Phone: 4068 1004 Mobile: 0427 912 004
Membership
The TSC is non-government organisation, overseen by a volunteer management committee. Membership is open to anyone in the community with an interest in the organisation, its services and helping people in our community.
Membership fees per annum are:
Corporate / Business – $11.00
Individual – $5.50
Non-Profit Organisations – $5.50
Pensioner – $2.20
The Management Committee are elected from this membership and oversee the operations of the Tully Support Centre.
Management Committee
President: Tania Gilbert
Vice-President: Jillian Cabel
Secretary: Tina Morriss
Treasurer: Marcus Thomas
Ordinary Committee Members: Kylea Sim & Christine Boric
Networks
The Tully Support Centre Inc. is a recognised member of the following networks;
Tully Support Services Network
Innisfail Support Services Network
Cassowary Coast Co-ordinated Community Care Cluster (C6)
Queensland Families and Communities Association
Regional Child and Family Services Committee
Panama Social Response Group
Panama TR4 Response and Resilience Taskforce
4854: looking forward advocacy group
Reports